Ropeway fares
Classification
Round trip
One way
Ordinary rate
Adult
¥1,840
¥1,010
Child
¥920
¥510
Group rate

(※)

Adult
¥1,650
¥920
Child
¥810
¥430
Adult: 12 years old and over (junior high school students and older)
Child: 6-12 years old (elementary school students)
Children not yet in elementary school are free of charge with an adult (1 child per adult).
The child fare applies from the 2nd child.
Group rates are available for parties of 25 and over.
For those with a handicap person handbook and those in groups of 25 or more people, please purchase tickets at the ticket counter in the Ropeway Momijidani Station.(please present your certificate.)
Hours
Seasonal adjustment
Hours
Final return departure time
12、1、2
9:00~16:00
16:30
3、4、5、6、7、8、9、10、11




Suspension of Service: Bad weather (strong winds, thunderstorms, etc.) and periodic maintenance twice a year (around February and July).
Guide to Miyajima Ropeway
Miyajima Ropeway operates two types of aerial ropeway systems, circulating and funicular in series, which is unique in Japan. As if walking in the sky, you can enjoy spectacular views of the Seto Inland Sea and primeval forest.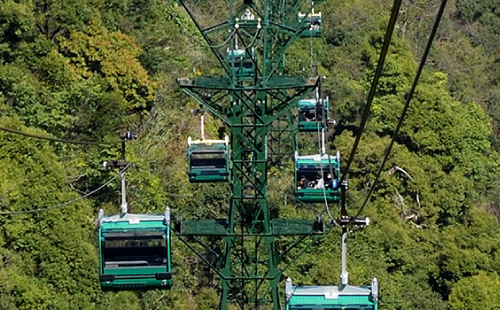 Circulating type ropeway
Momijidani Line (Momijidani – Kayatani)
This system operates a number of gondolas for small groups of passengers at fixed intervals. The system is suitable for long-distance transport. The Momijidani Line runs 8-seater gondola carriers (max. 22 units) at about 1-minute intervals.
Funicular type ropeway
Shishiiwa Line (Kayatani – Shishiiwa)
The system operates two large carriers alternately between the mountainside and summit. It is suitable for high-speed transport. The Shishiiwa Line runs 30-seater gondola carriers at 15-minute intervals (shorter intervals during busy hours).
Round trip from Momijidani Station
To Shishiiwa Station for about one hour there and back
Mt.Misen up to the top / about one hour plus there and back